1. Visit the product detail page for an item you wish to buy.
2. Click on Add to Cart.
3. When you've finished adding items to your cart, click on View Cart or the Shopping Cart icon.
4. If you need to delete items in your cart, click on (X), next to each item.
5. Calculate the shipping fee.
6. Click Proceed to Checkout and follow the on-screen instructions.
7. Review your order information and click Proceed to PayPal or Place Order to complete your purchase.
To use the shopping cart you need to have either a Visa, Mastercard, American Express, or Discover Card to check out. If you wish to pay by alternative methods – Money Order, Checks, Cashiers Checks, or Bank Transfers, please use either our phone or email option of ordering.
---
Secure Shopping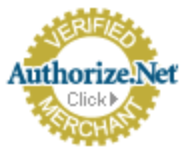 You can shop at ttmilitaria.com with confidence. We have partnered with Authorize.Net, a leading payment gateway since 1996, to accept credit cards and electronic check payments safely and securely for our customers.
The Authorize.Net Payment Gateway manages the complex routing of sensitive customer information through the electronic check and credit card processing networks. See an online payments diagram to see how it works.
The company adheres to strict industry standards for payment processing, including:
128-bit Secure Sockets Layer (SSL) technology for secure Internet Protocol (IP) transactions.
Industry-leading encryption hardware and software methods and security protocols to protect customer information.
Compliance with the Payment Card Industry Data Security Standard (PCI DSS).
For additional information regarding the privacy of your sensitive cardholder data, please read the Authorize.Net Privacy Policy.
ttmilitaria.com is registered with the Authorize.Net Verified Merchant Seal program.
---
PAYPAL
My Paypal account is: johnnyg900@aol.com
If you would like a PayPal invoice for a particular item(s) please send me an email and I can send a Paypal invoice.
---
PAYING VIA CHECK OR MONEY ORDER
To pay by Check or Money Order, you may either email me with the information and item number and ask that the item be put aside for you until your check or money order can arrive. Or you can call me to have an item or items put aside for you.
Mailing Address:
Time Traveler Militaria
P.O. Box 49187
Charlotte, NC 28277
U.S.A.
---
ORDER BY EMAIL OR PHONE
Call to check if items are still available, at that time the item will be put aside for you until your check or money order can arrive or you may give credit card number at this time for immediate shipment.
Email: ttmilitaria@gmail.com
Mobile: 1.703.216.4994